Wease Show Rundown 4-4-14
What Is Illegal Child Labor Alex?
We discuss a remark a Jeopardy contestant made last night, and if he was taking a legit shot at host Alex Trebek, or if it was just a joke gone bad. Ya know Wease has never been accused of telling an inappropriate joke.
Golf Controversy
Golf Digest Magazine is facing controversy because the new issue has hottie Paulina Gretsky, daughter of hockey great Wayne, on the cover. The only problem is that Paulina doesn't play golf. She is married to tour pro Dustin Johnson, but many of the best female golfers are pissed at the slight.
Marianne wants to know if every magazine has to have boobs on it to sell now... Guitar Player? Running? Reader's Digest?
Paternity Leave
NY Mets second baseman Daniel Murphy is taking crap on New York sports radio for missing the first 2 games of the season because his wife had a baby on opening day.
Mike Francesa, Craig Carton and Boomer Esiason all ripped Murphy for taking paternity leave. Francesa said Murphy's wife didn't need his help the first few days. Carton told Murphy, "get your ass back to work" and Esiason said if it were him, he would have made his wife have a C-section rather than missing opening day.
In case you forgot, Francesa is the guy that fell asleep during his own show.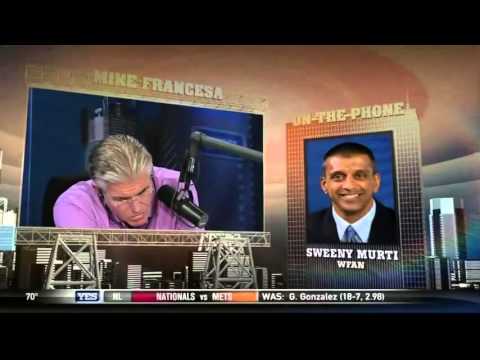 Ways Women Have The Upper Hand
- Never have to buys a drink on their own
- If they cry during an argument they win
- Flirting is much easier
Marianne tells about the time she made an ex boyfriend jealous by posting on Facebook about a bartender that was being nice to her.
What should hungover Wease do after today's show? Play in the Friday afternoon poker, go drinking at Tony D's, or nap & take Doreen out tonight? C'mon... is napping really a choice?